Jobs
You would like to work for the Biodiversity Exploratories?
Here you can find at all job offers of the respective institutions within the Biodiversity Exploratories for scientific and non-scientific staff as well as for students.
We are looking forward to your application!
Please note that unsolicited applications can usually only be considered in the context of theses.
No current job offers available
---
No current job offers available
---
PhD position in Soil Biology/Microbial Ecology
PhD position in Soil Biology / Microbial Ecology at the University of Hohenheim (TV-L E13, 65%).
Work location: University of Hohenheim, Stuttgart
Start: 01.10.2021
Application deadline: until position is filled
Öffnen
---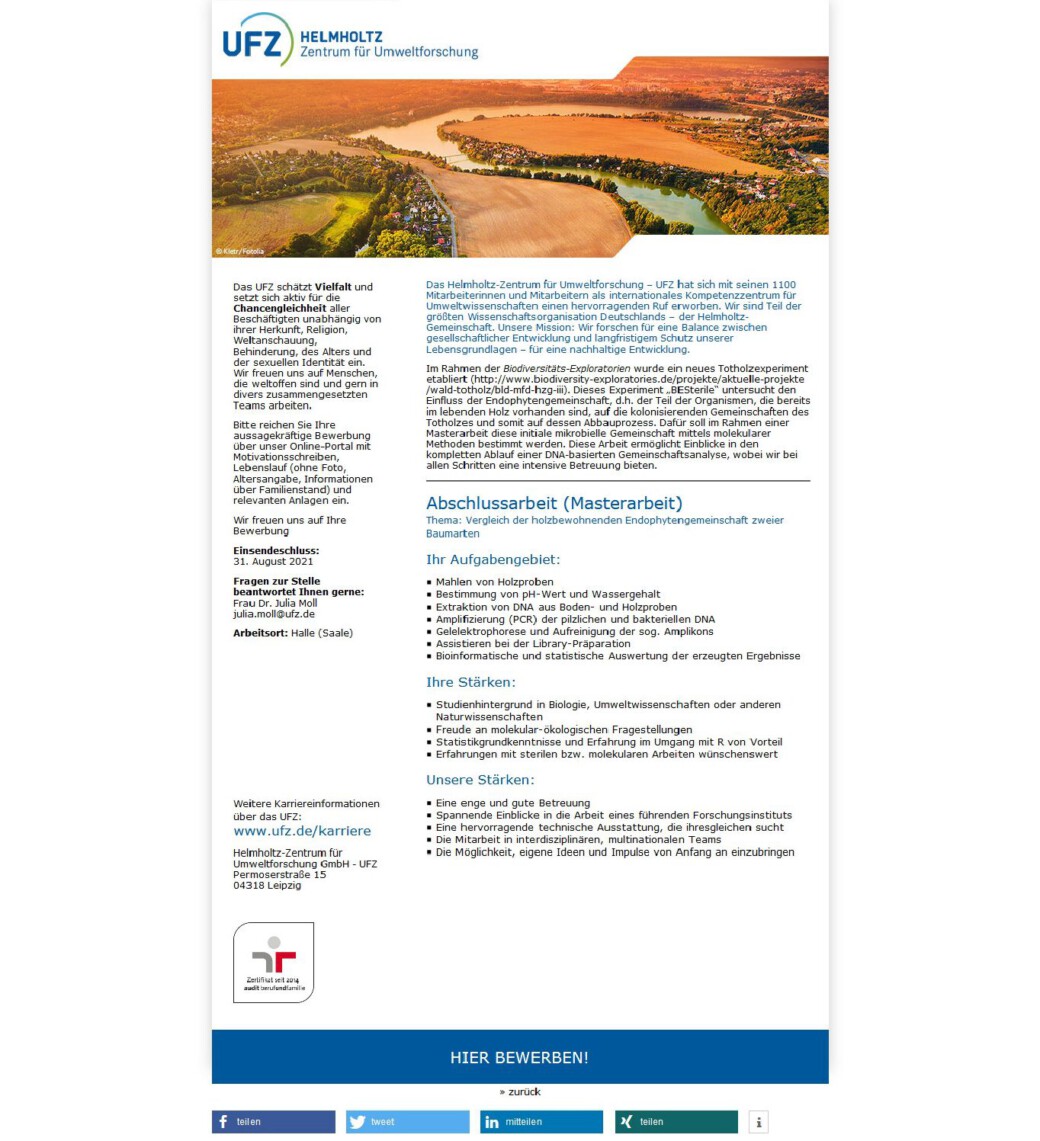 Abschlussarbeit (Masterarbeit) im Projekt BLD-MFD-HZG III
Masterarbeit zum Thema "Vergleich der holzbewohnenden Endophytengemeinschaft zweier Baumarten" im Rahmen eines neuen Totholzexperimentes in den Biodiversitäts-Exploratorien (https://recruitingapp-5128.de.umantis.com/Vacancies/2216/Description/1).
Standort: Das Helmholtz-Zentrum für Umweltforschung – UFZ, Halle (Saale)
Bewerbungsfrist: 31.08.2021
Information zum Projekt: https://www.biodiversity-exploratories.de/de/projekte/belongdead-multitrophische-funktionale-diversitaet-im-totholz-bld-mfd-hzg-iii/
Öffnen
---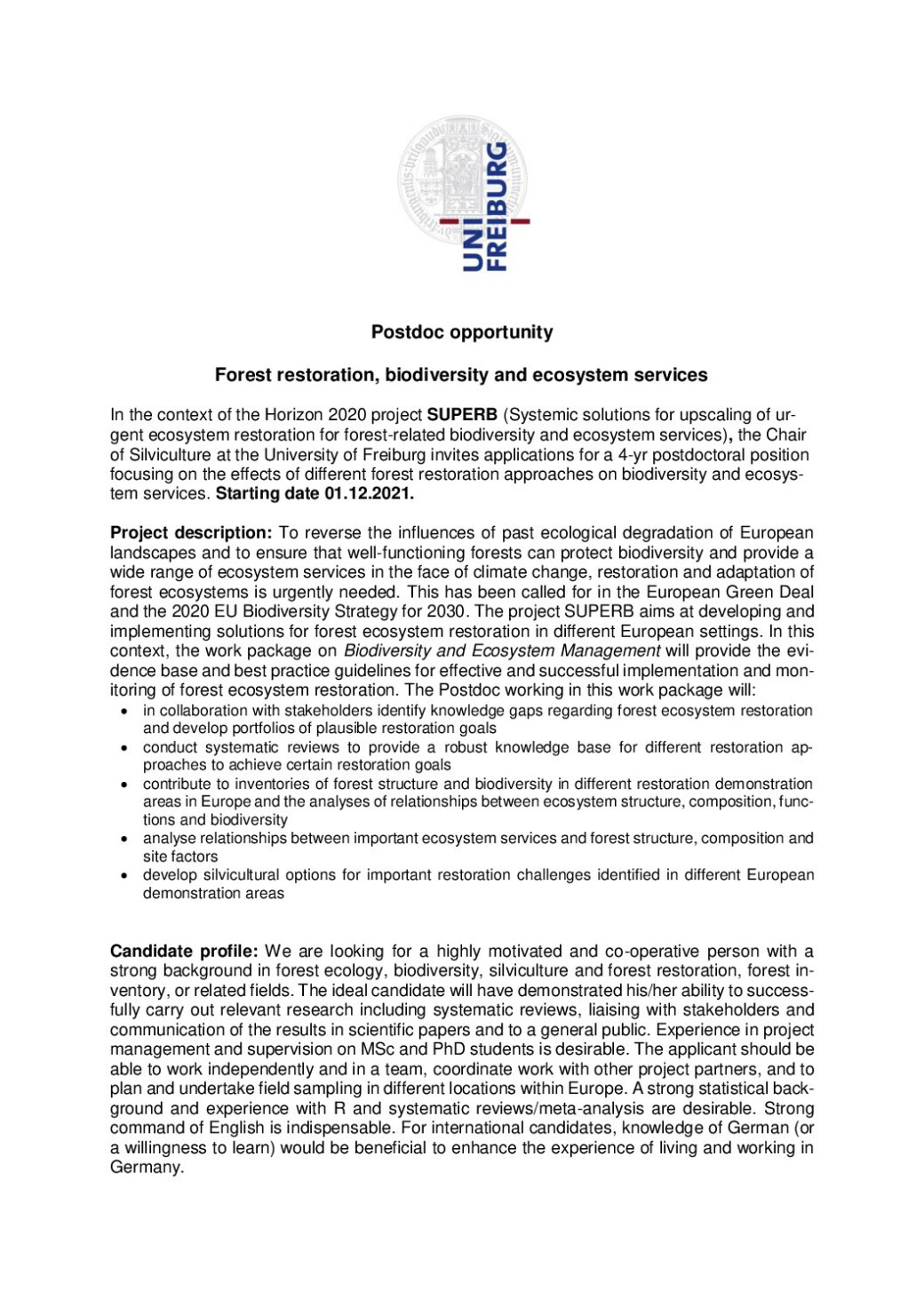 Postdoc position in SUPERB
Postdoc opportunity in Forest restoration, biodiversity and ecosystem services (TV-L E13, 100% scientist salary)
Work location: University of Freiburg, Freiburg
Start: 01.12.2021
Application deadline: 20.09.2021
Öffnen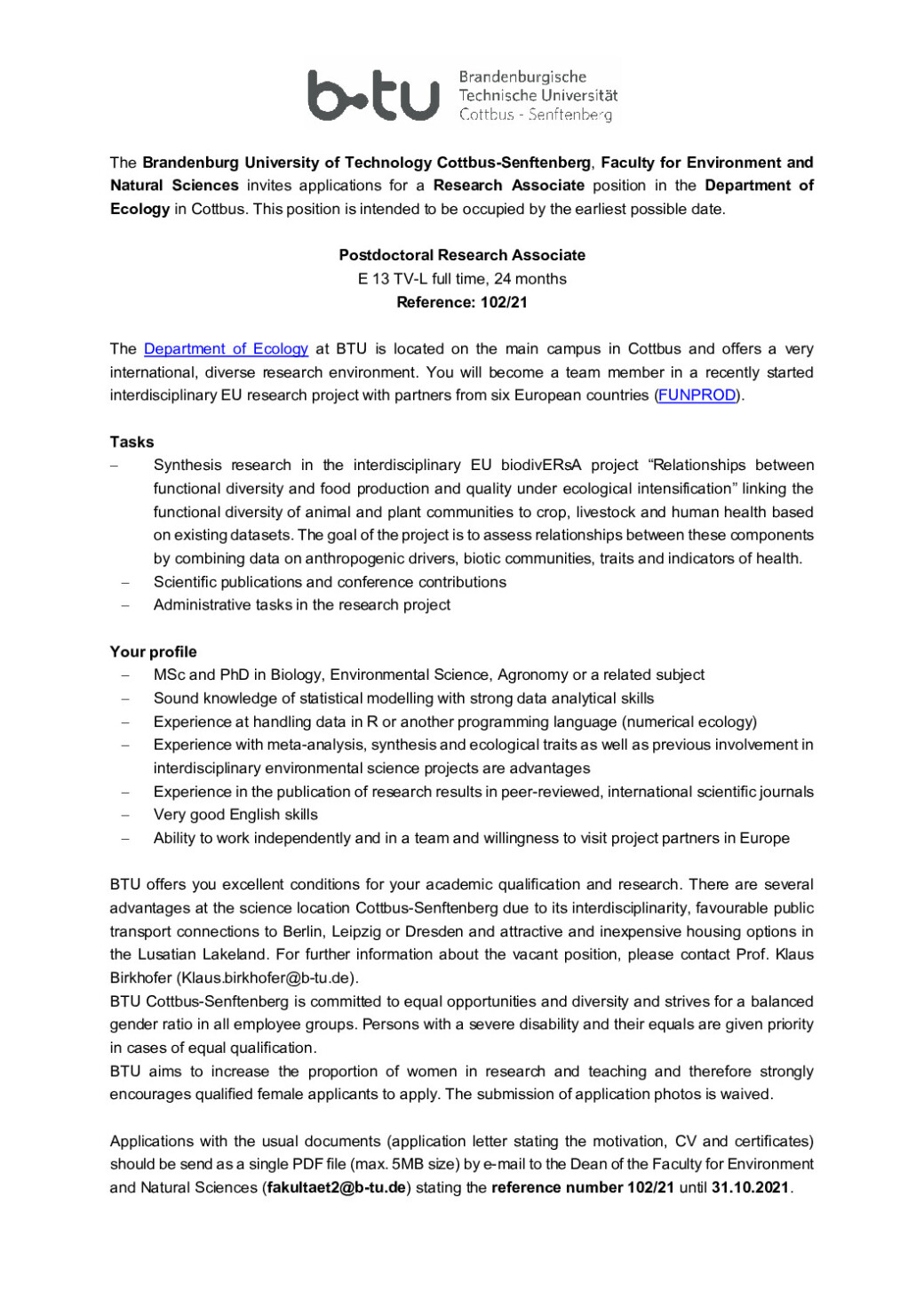 Postdoctoral Research Associate position in the Department of Ecology, BTU
Postdoctoral Research Associate, E 13 TV-L full time, 24 months
Work location: The Brandenburg University of Technology Cottbus-Senftenberg, in Cottbus
Start: the earliest possible date
Application deadline: 31.10.2021
Öffnen
---