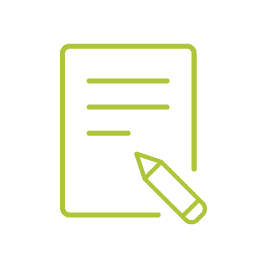 Jobs
You would like to work for the Biodiversity Exploratories?
Here you can find at all job offers of the respective institutions within the Biodiversity Exploratories for scientific and non-scientific staff as well as for students.
We are looking forward to your application!
Please note that unsolicited applications can usually only be considered in the context of theses.
Wissenschaftliche:r Mitarbeiter:in, "Local Manager" (m/w/d)
Eine bis zum 31.12.2023 befristete Stelle im Management-Team des Exploratoriums Hainich-Dün, im Rahmen des Schwerpunktprogrammes "Biodiversitäts-Exploratorien", am Lehrstuhl für Terrestrische Ökologie (Prof. Wolfgang Weisser) an der Technischen Universität München, Teilzeit (ca. 65%), Tarifvertrag der Länder (TV-L), mit folgenden Aufgaben:
Mithilfe bei der Organisation der Arbeit des Lokalen Management-Teams
Abstimmung der Arbeiten mit den anderen Lokalen Management-Teams und dem zentralen Koordinationsbüro
Kontaktpflege und Abstimmung mit Behörden und Landnutzern/-besitzern
Einholung notwendiger Genehmigungen
Aufbereitung von Forschungsergebnissen für Stakeholder
Erhebung von Basisdaten und Einspeisung der Daten in eine zentrale Datenbank
Presse- und Öffentlichkeitsarbeit, Exkursionen und Infoveranstaltungen
Unterstützung der Forschungsprojekte
Start: zum nächstmöglichen Zeitpunkt
Dienstort: Mülverstedt in Thüringen
Rückfragen zur Stelle beantwortet Frau Dr. Anna Katharina Franke – anna.franke@tum.de.
---
Technische:r Mitarbeiter:in Grünland (m/w/d)
Stellenangebot im Rahmen der Biodiversitäts-Exploratorien, an der Technischen Universität München, für die Betreuung des Exploratoriums Hainich-Dün – Unterstützung des lokalen Managementteams im Bereich Grünland, Vollzeit, Tarifvertrag der Länder (TV-L), zunächst befristet bis zum 12. Januar 2026.
Bewerbungsfrist: 15.07.2023
Start: 01.09.2023
Dienstort: Mülverstedt in Thüringen
Open in new window
---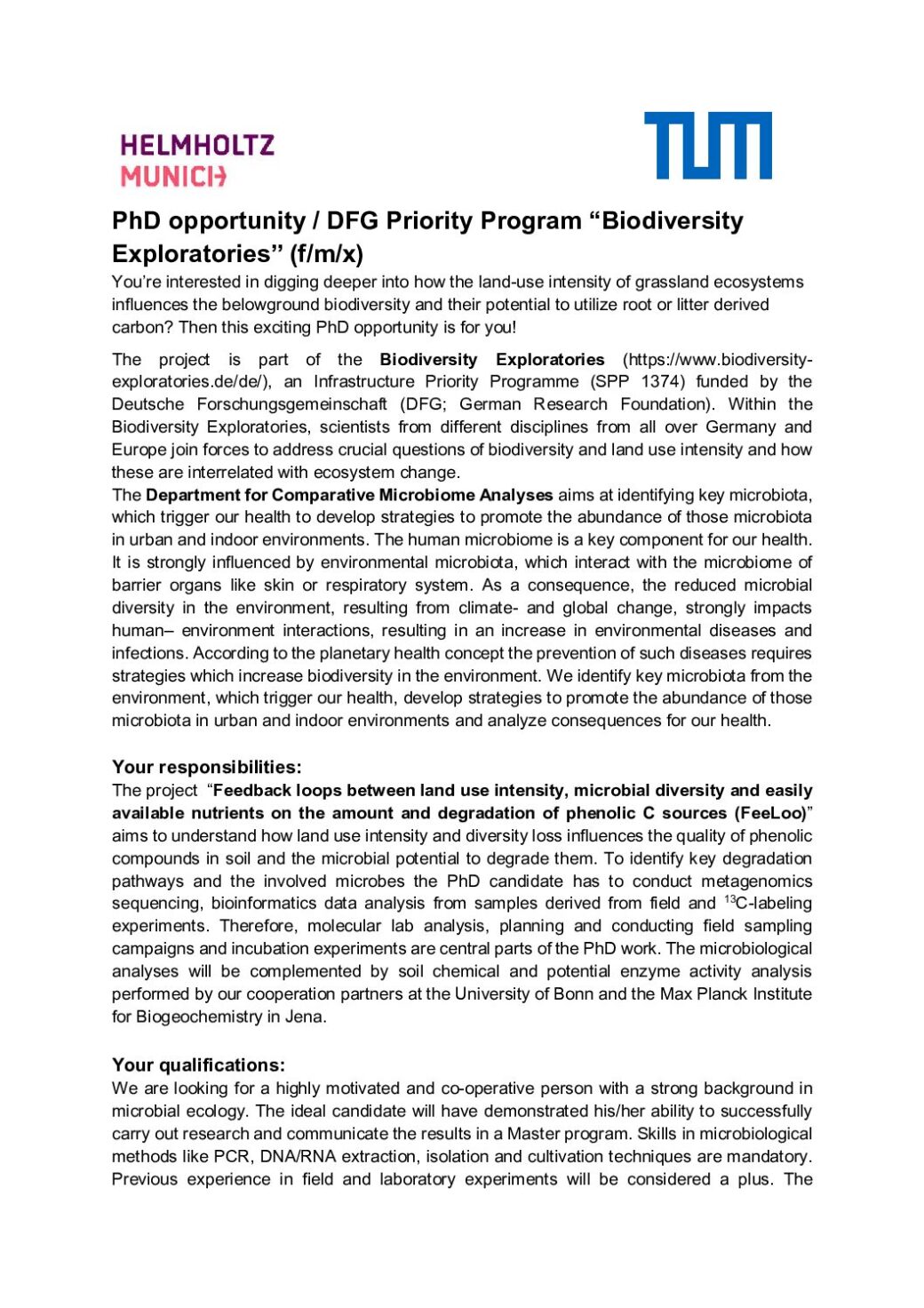 PhD opportunity / DFG Priority Program "Biodiversity Exploratories" (f/m/x)
At the Technische Universität München, in the project "Feedback loops between land use intensity, microbial diversity and easily available nutrients on the amount and degradation of phenolic C sources (FeeLoo)", salary level up to E 13, flexible working hours & working-time models, 30 days annual leave, limited to 3 years.
Application deadline: extended until August 31st, 2023
Starts: as soon as possible
Open in new window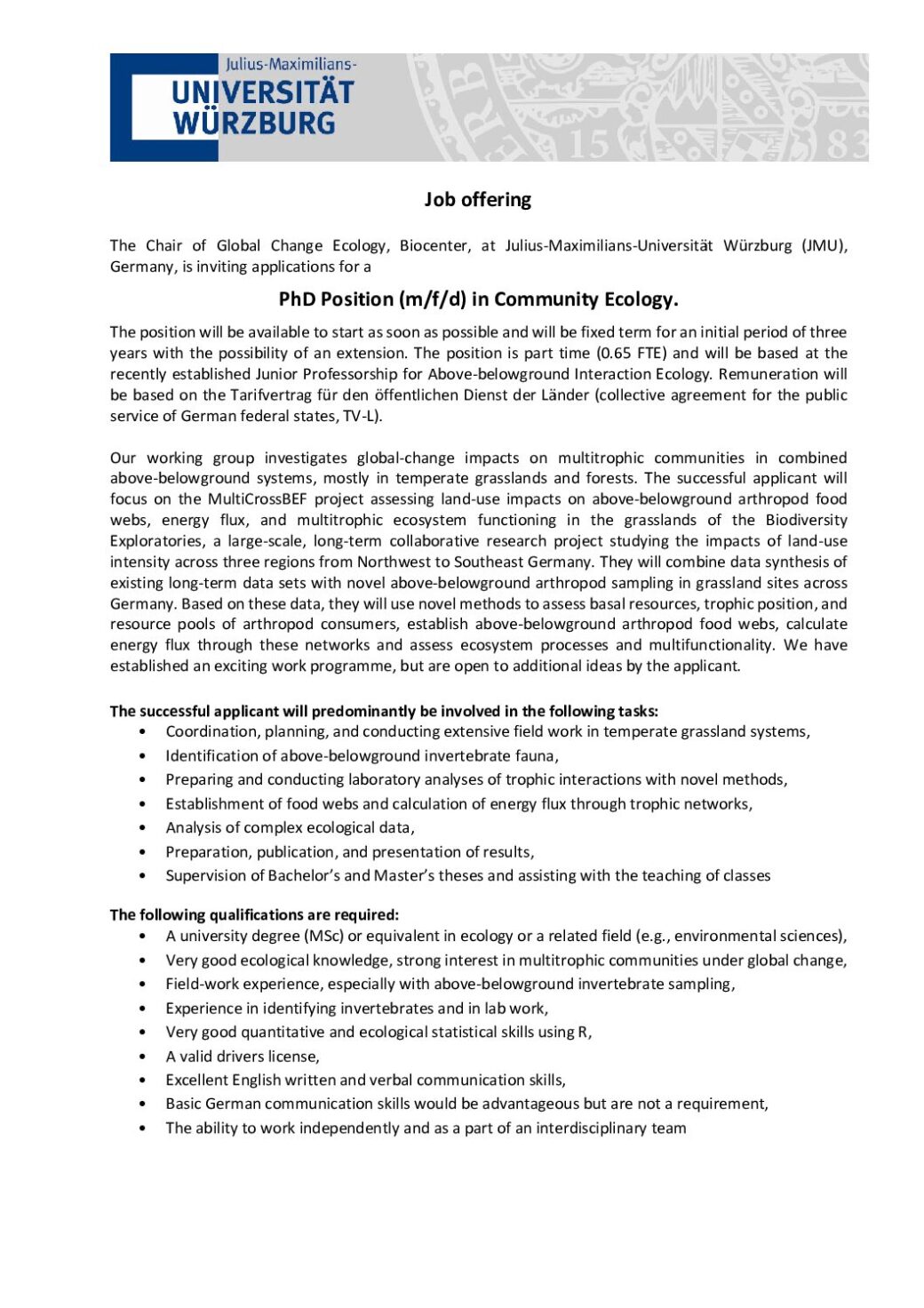 PhD Position (m/f/d) in Community Ecology
The position at Julius-Maximilians-Universität Würzburg (JMU), the Chair of Global Change Ecology, initial period of three years, possibility of an extension, part time (0.65 FTE), remuneration TV-L.
Application deadline: August 27th, 2023
Starts: as soon as possible
Open in new window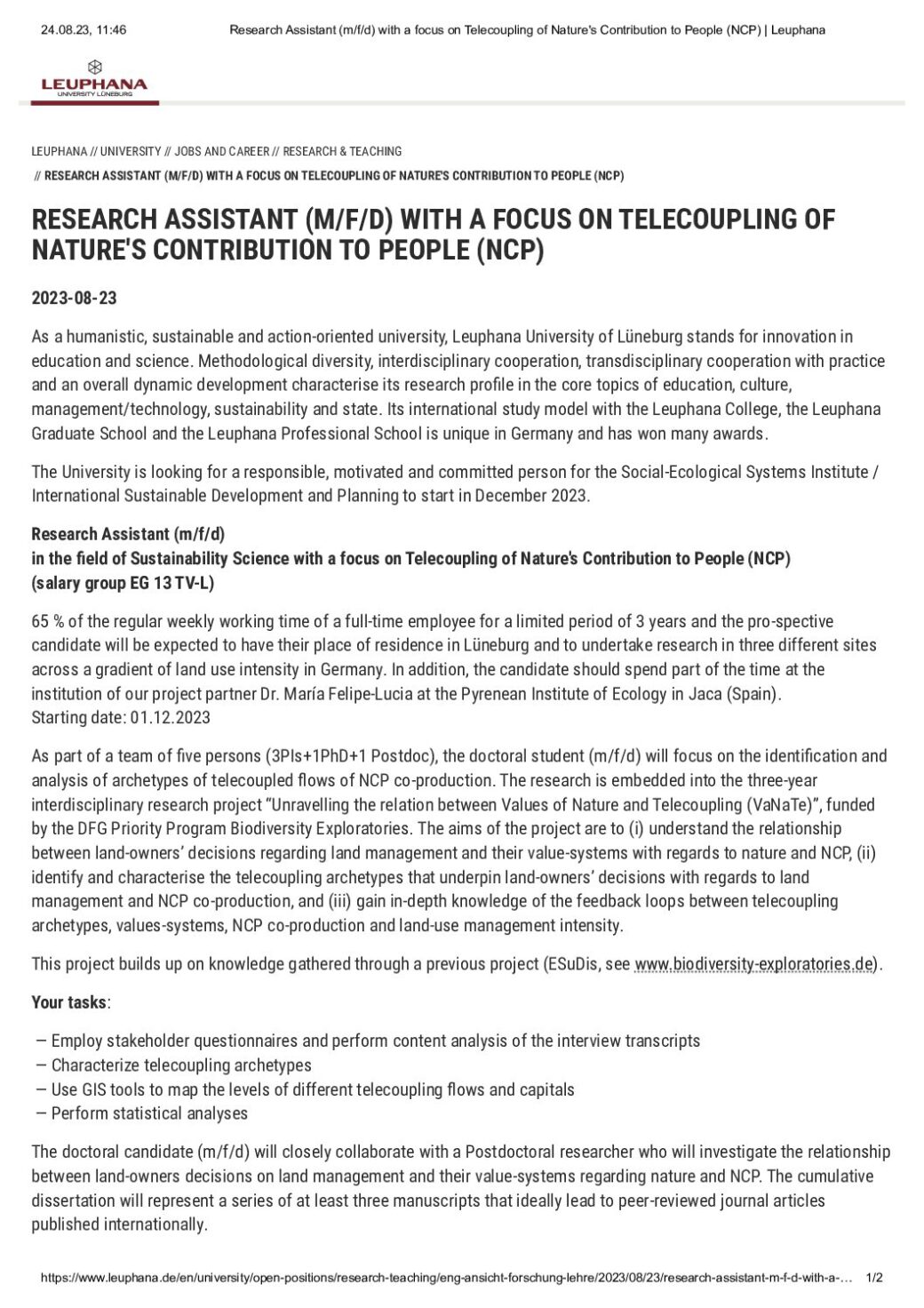 Research Assistant (m/f/d) in the field of Sustainability Science with a focus on Telecoupling of Nature's Contribution to People
At the Leuphana University of Lüneburg, for the Social-Ecological Systems Institute /International Sustainable Development and Planning, research project "Unravelling the relation between Values of Nature and Telecoupling (VaNaTe)", 65 % of the regular weekly working time of a full-time employee, limited period of 3 years, salary group EG 13 TV-L
Application deadline: 30.09.2023
Starts: 01.12.2023
Open in new window
---
No current job offers available
---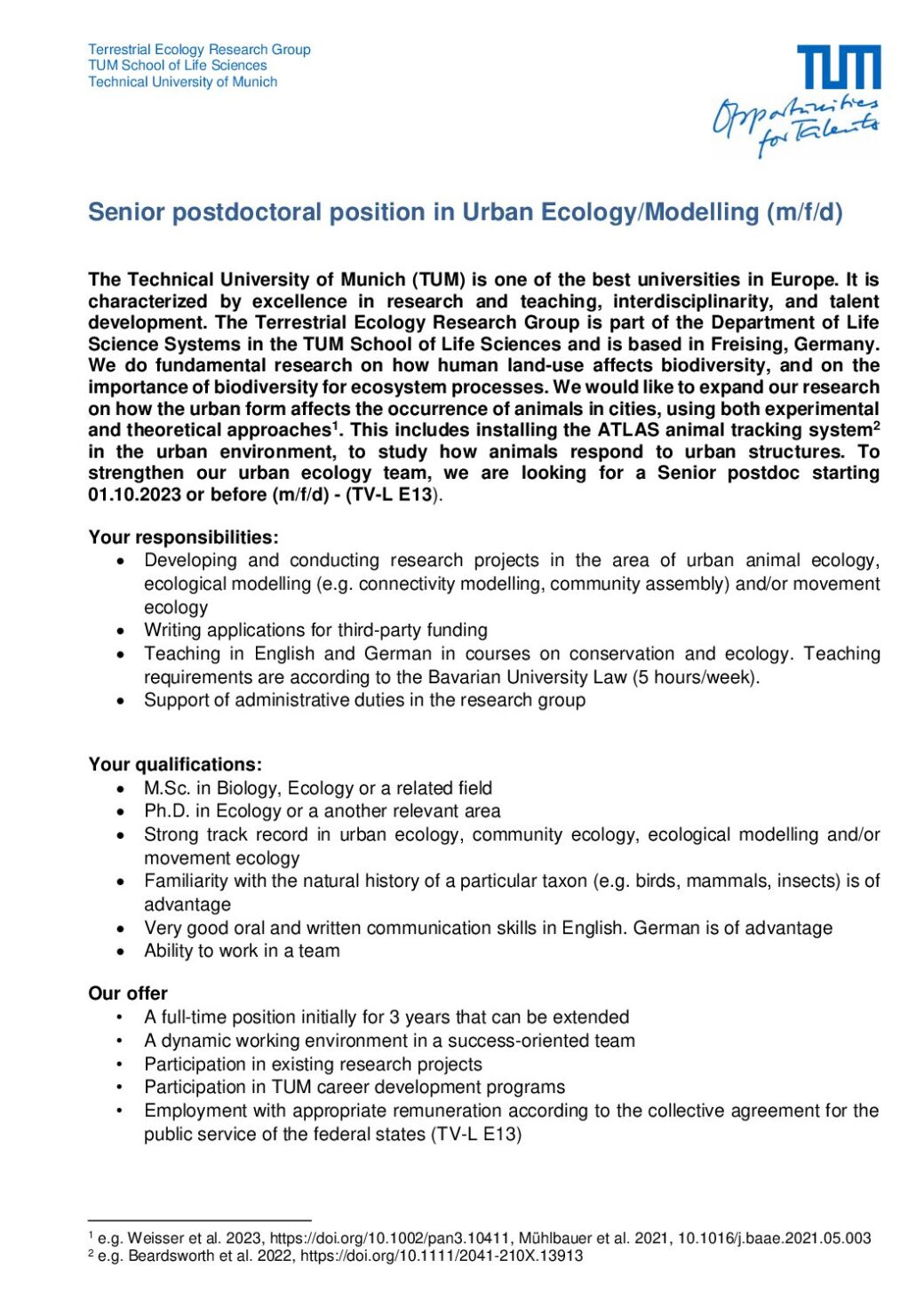 Senior postdoctoral position in Urban Ecology/Modelling (m/f/d)
A Senior postdoc position (m/f/d) at the Technical University of Munich (TUM), in the Terrestrial Ecology Research Group, TV-L E13, full-time, for 3 years (can be extended)
Application deadline: 15. 08.2023
Starts: 01.10.2023
Open in new window
---