#Plants
#2020 – 2023 #2017 – 2020 #2014 – 2017 #2011 – 2014 #2008 – 2011 #2006 – 2008
Botany (Core project)
Plant diversity and plant-related processes
Also in this project phase, the core project Botany will examine the diversity of higher vascular plants, lichens, mosses and fungi, the productivity of grasslands and, in experiments, the influence of dispersal limitation and disturbance.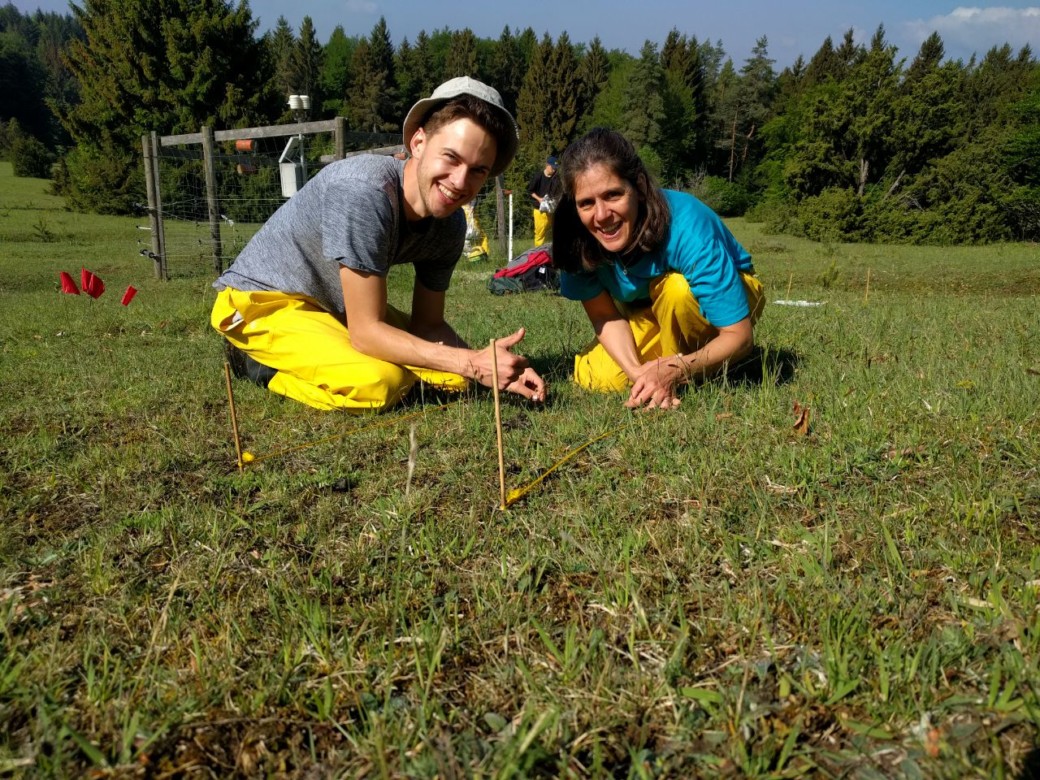 The main objectives of the present project are:
1. to record the influence of land use on the diversity of plants in grassland and forest as well as pathogenic fungi in grassland,
2. measure the functional and phylogenetic diversity of grassland plants under standardised conditions,
3. record the above-ground and below-ground productivity and nitrogen content in grassland, and
4. experimentally manipulate plant diversity by seeding, disturbing, or removing plants to test the effects of altered diversity on ecosystem processes and to see how these effects differ between land uses.
Repeated recording of diversity and ecosystem processes will also allow us to estimate the stability and regenerative capacity of communities, and to relate changes in vegetation diversity and composition to those of other taxa.
Furthermore, the project will provide important baseline information for other projects to study the influence of taxonomic, functional and phylogenetic diversity of plants and grassland productivity on ecosystem processes and the diversity of other taxa.
|  Method | on 1000 areas (GPs) | 100 areas (EPs) |
| --- | --- | --- |
| Plant diversity | | |
|  Forest vegetation | One image each in spring and autumn, 20 x 20 m |  x |
|  repeated annually | x | |
| Grassland vegetation | A shot in summer, 4 x 4 m |  x |
|  repeated annually |  x | |
| Vegetation height | x | |
| Biomass | x | |
| Species number-area relationship | x | |
| Seeds band | x | |
| Functional diversity | Characteristics from the BIOLFLOR database Morphological characteristics Propagation characteristics Pollination characteristics | |
| Genetic diversity | AFLP or microsatellites of selected plants | x |
| Seeding experiments | Seeding of grassland species from the regional species pool to test dispersal limitation | x |
|  Seeding of selected tree species in fenced and open areas to test spread limitation of trees (planned) |  x | |
| Measurement of biomass and LAI to test the influence of diversity on productivity | x | |
| Greenhouse study | Germination success | |
| Parasites and herbivores | Determination of parasite and herbivore infestation (thistles) | x |
| Disturbance experiments in grassland and forest | Simulation of footfall and drought at different intensities to test the influence of disturbances on the stability of differently diverse ecosystems. | x |
| Population biology of selected species | Quantification of population density, herbivory, pathogen infestation and pollinator limitation of selected plants | x |
---
The so-called core projects of the BE emerged from the site selection project and the establishment of the exploratories (2006-2008). Since 2008, they have been providing the infrastructure and collecting important basic information on land use, diversity and ecosystem processes (long-term monitoring) for all projects. In addition, they coordinate project-wide activities such as various large-scale experiments.