#Theory, Modelling & Upscaling
#2020 – 2023
SEBAS (Contributing project)
Sensing Biodiversity Across Scales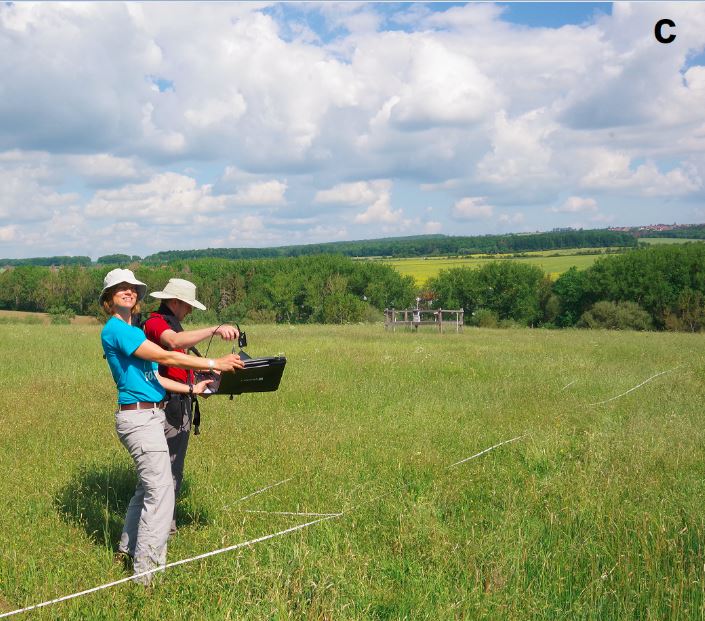 It is generally established that through the intensification of fertilisation and mowing practices in grasslands, the provision of 'feed production' as ecosystem service increases, but at the cost of biodiversity and other ecosystem functions. Remote sensing is useful to map certain plant traits and classify the vegetation into functional groups at coarse scales. However, due to the spatial discrepancies between ecological processes and management units in coupled social-ecological systems, we still have a limited understanding of the effects of land use on the relationship between biodiversity – ecosystem functions – and ecosystem services. For instance, while field ecologists measure traits at the species scale, satellites measure traits at pixel scale. Thus, pixels represent inter-pixel variance instead of inter-specific variance. Also, biodiversity and ecosystem functions can vary in space and time with a large number of drivers (e.g., succession stages, climatic gradients and variability, soil properties, land use, etc.) making extrapolations challenging.
---
We aim to improve the mechanistic understanding of the effects of land use on the interplay between biodiversity – ecosystem functions – and ecosystem services. For that, we are analysing the relationships between functional and structural diversity and the ecosystem service of forage production, and their temporal variation for three spatial scales (plot, farm, and landscape). We will achieve this by combining plot-based ecological and remote sensing research on land-use intensity and 5 Essential Biodiversity Variables (EBVs): Aboveground Biomass (AGB), Above Net Primary Productivity (ANPP), Leaf Area Index (LAI), plant phenology, and functional diversity.
---
The data collected from the 5 EBVs during a full annual cycle is allowing us to quantify forage production along with functional composition and diversity across the season at sub-plot level. At the same time and in collaboration with Core-3, we are retrieving multispectral and microwave data from UAVs and multiple satellites (Sentinel-1 & 2, Landsat-8, MODIS and PlanetScope). Following a multiscale sampling and upscaling strategy we are using machine learning and artificial intelligence algorithms to scale up the field information to the satellite pixels, as well as to a landscape scale.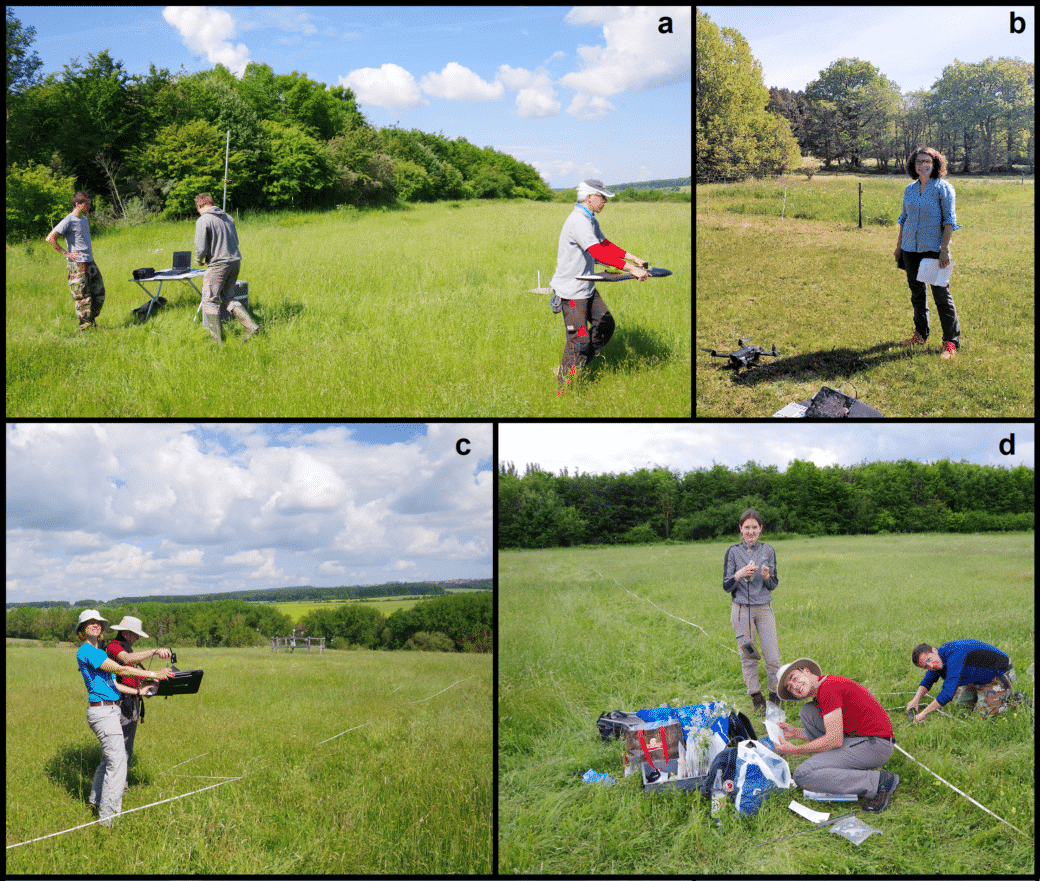 ---
We hypothesise that (i) the five EBVs can be derived on multiple spatial scales using multimodal satellite image time series data; and that (ii) the effects of land use on the relationship of biodiversity to ecosystem functions and services vary across spatial scales. Here, the functional and structural diversity is likely to play a key role in the level and temporal stability of feed production.
---
Hoffmann J., Muro J., Dubovyk O. (2022): Predicting Species and Structural Diversity of Temperate Forests with Satellite Remote Sensing and Deep Learning. Remote Sensing 14 (7), 1631. doi: 10.3390/rs14071631
Muro J., Linstädter A., Magdon P., Wöllauer S., Männer F., Schwarz L.-M., Ghazaryan G., Schultz J., Malenovsky Z., Dubovyk O. (2022): Predicting plant biomass and species richness in temperate grasslands across regions, time, and land management with remote sensing and deep learning. Remote Sensing of Environment 282, 113262. doi: 10.1016/j.rse.2022.113262
Predicting tree species and structural diversity across temperate forest types with Satellite Remote Sensing and deep learning
Hoffmann J. (2022): Predicting tree species and structural diversity across temperate forest types with Satellite Remote Sensing and deep learning. Bachelor thesis, University Bonn
Untersuchung des Zusammenhangs zwischen den Fernerkundungsdaten von Sentinel-1 sowie Sentinel-2 und der Landnutzung bei gemäßigten Grünlandflächen in Deutschland
Rubach M. (2021): Untersuchung des Zusammenhangs zwischen den Fernerkundungsdaten von Sentinel-1 sowie Sentinel-2 und der Landnutzung bei gemäßigten Grünlandflächen in Deutschland. Bachelorarbeit, University Bonn
Assessing the possibilities of Sentinel-1 time-series and Omnibus algorithm to detect grassland management practices: A case study in the Swabian Jura
Bott J. (2021): Assessing the possibilities of Sentinel-1 time-series and Omnibus algorithm to detect grassland management practices: A case study in the Swabian Jura. Bachelor thesis, University Bonn
Grassland farmers' perception of biodiversity patterns and trends: The role of land use practices and the ecological context
Klimke M. (2021): Grassland farmers' perception of biodiversity patterns and trends: The role of land use practices and the ecological context. Master thesis, University of Cologne
The potential of Sentinel-1 radar images for inferring vegetation structure in grasslands – A case study of biodiversity exploratories in Germany
Blum D. (2021): The potential of Sentinel-1 radar images for inferring vegetation structure in grasslands - A case study of biodiversity exploratories in Germany. Master thesis, University Bonn
Deriving Essential Biodiversity Variable on ecosystem fragmentation with Remote Sensing in German grasslands
Ableitung einer essentiellen Biodiversitätsvariable für Ökosystemfragmentierung mittels Fernerkundung in deutschen Grünlandflächen
Roth M. (2020): Deriving Essential Biodiversity Variable on ecosystem fragmentation with Remote Sensing in German grasslands. Bachelor thesis, University of Bonn
---