BETol I (Contributing project)
The role of nutrients for the variability of drought effects on community composition and productivity across land use gradients in grasslands: a trait based approach
Project phase 2017 - 2020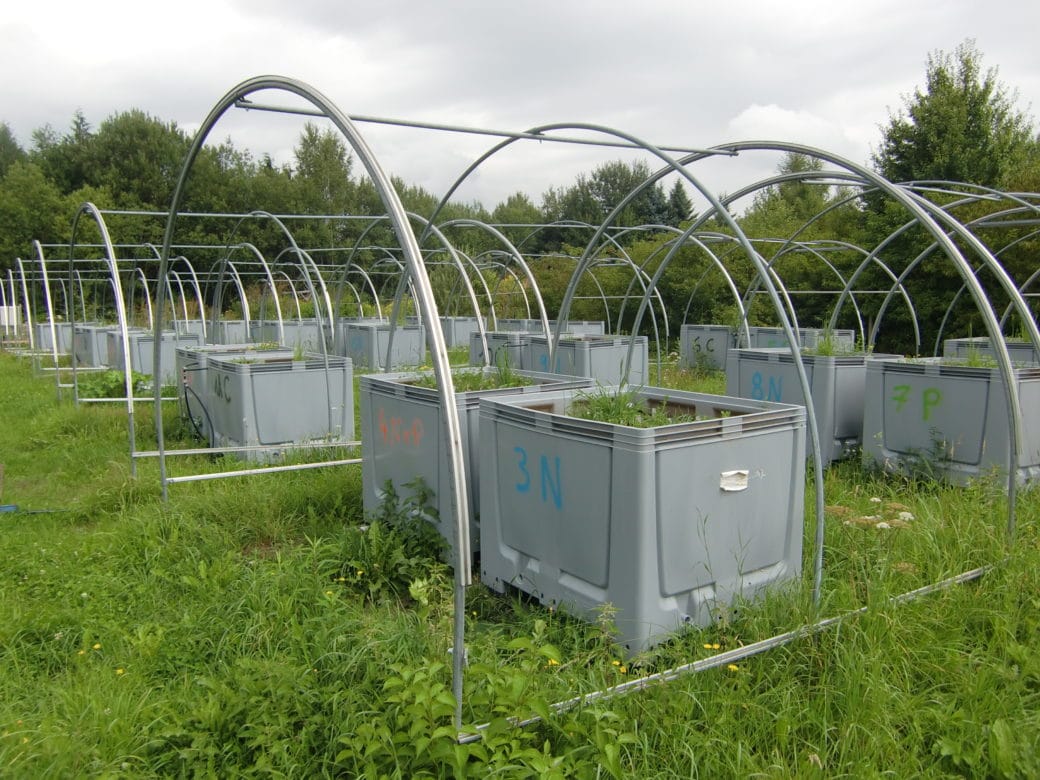 Land use and climate are the main global change drivers influencing and shaping terrestrial communities. A combination of fertilization and drought could exacerbate or dampen their effects, with pervasive consequences for community composition and productivity. However, our understanding of combined effects of nutrients and drought remains severely limited. The primary objective of this project is to improve our capability of projecting consequences of global change for grasslands.
---
Thus, we will address the following questions:
1. How does the expression of traits relevant for plant drought resistance change with nutrients? How are these changes coordinated? How do species or resource use strategies vary in plasticity?
2. How do differences in nutrient conditions affect whole plant responses to drought?
3. What is the role of nutrients for community drought resistance and resilience across land use gradients in grasslands?
---
To address these questions we conduct:
A greenhouse experiment, to assess the plasticity of drought resistance traits in response to different nutrient availabilities
A common garden field experiment, to quantify the combined effects of nutrients and drought on whole plant performance (growth and survival)
Analyses of a previous field experiment in the Biodiversity Exploratories (Rangeshift, 2009-2012,Bütof et al. 2012), which manipulated precipitation along a land-use gradient.
We combine the results with data from vegetation surveys in the Biodiversity Exploratory, to assess the role of nutrients for drought effects on community composition, diversity and productivity across a land use gradients in grasslands.
---
A. Bütof, L. R. von Riedmatten, C. F. Dormann, M. Scherer-Lorenzen, E. Welk, and H. Bruelheide. 2012. The responses of grassland plants to experimentally simulated climate change depend on land use and region. Global Change Biology 18:127–137.
---
Sun S. (2019): Comparative drought resistance of temperate grassland species: mechanisms, prediction and relation to species distribution across moisture gradients. Dissertation, University Bayreuth. doi: 10.15495/EPub_UBT_00004322
Jung E., Gaviria J., Sun S., Engelbrecht B. M. J. (2020): Comparative drought resistance of temperate grassland species: testing performance trade-offs and the relation to distribution. Oecologia 192, 1023–1036. doi:10.1007/s00442-020-04625-9
Sun S., Jung E., Gaviria J., Engelbrecht B. M. J. (2020): Drought survival is positively associated with high turgor loss points in temperate perennial grassland species. Functional Ecology 34 (4), 788-798. doi: 10.1111/1365-2435.13522
---
Project phase 2014 – 2017
Variation of plant drought tolerance in grasslands: effects on community assembly and ecosystem resilience
Drought is important in grasslands worldwide. Temperate grasslands experience years with low rainfall and are subject to extreme drought events that lead to plant drought stress. With global climate change, temperatures are projected to increase and water availability to decrease in temperate grasslands during the growing season. At the same time, the intensity and frequency of drought events is expected to increase. The importance of drought in driving community structure and ecosystem function in grasslands is therefore expected to even increase in the future.
However, although we have plenty of evidence for the importance of drought in grasslands we still lack a thorough understanding that enables us to predict which species/traits will benefit or suffer from drought, and therefore the effects on community composition and on ecosystem function and resilience.
In this research project we will address the following main questions:
how does drought tolerance vary among grassland species in the Exploratories?
what traits are important for determining differential drought tolerance of grassland species?
to what extend is drought important in shaping community composition and diversity across space and time, and what is the role of neutral vs. deterministic processes (and habitat filtering vs. niche differentiation)?
does the importance of drought for community assembly change with land-use?
We will conduct common garden drought experiments on the most important species in the Exploratory grasslands to comparatively assess species drought responses and potentially underlying traits. We will combine the results with Biodiversity Exploratory data on vegetation composition and moisture variation in the experimental plots to evaluate the relative importance of drought for community assembly.